Brașov, March 24, 2018. First rally in my career where I was sporting a two-digit number instead of a three one. I took down the '4' from the front, which means I'm no longer a rookie, at least according to the regulations. Hell, will I manage to drive a little better than last year? Am I gonna be beat down by rookies? Do I still have what it takes?
Two weeks prior to leaving for Brașov, I had the first round of tests with my team. The first tests when I had the car ready and I could train and readjust to the wheel of Sean D'Or, because I was already fed up with standing on the sidelines and taking pictures. It was sunny and the tarmac from Șugaș was almost dry – I stayed in the car 4 and a half hours without getting out, climbing and descending the stage in race mode. I did over 100km of tests, almost an entire rally worth. I had people to my right from which I learnt so much, almost to make up for an entire season: thank you Norbert, Giri, Tudor and Diana. I had no clue how important test runs were … but I was about to find out. 
Writing this rally review more than a month after the race, I am surprised to notice how much I have committed to memory. Thinking of 2017, when we had almost 20 degrees and a sunny weather, now it was snowy and all the country was under a yellow snow alert. It wasn't a pleasure to drive and I don't think I need to mention just how slippery the tarmac stages were… Still, something did change fundamentally: the stress, or more likely, the absence of it. Without the risk of falling into a cliché trap, I was really zen like. With all the press releases that needed writing, the equipment for the DACIA Cup that needed to get to their respective owners or the Instagram photos that were waiting to be posted, I managed, finally, to enjoy the moment. Not that I'm complaining or anything, but it was pretty difficult to balance the PR job with the actual rallying. 
I managed to finish the first day on the 5th place from the 11 crews in the DACIA Cup, a result that I think it's more than satisfactory. I already wanted more, because 5 is so close to 3 … But I don't find any blame in myself for this, because I know that at some point I will climb that podium and for that I'm working more and more, and smarter.
The sure thing is that I was not prepared for what was to happen the next day – we was starting early morning with the queen of all stages – Babarunca. The road between Săcele and Cheia was one of the trickiest among the special stages in Romania. Outside the temperature went down to -10 and the sun was cold and crisp – in the city. In the woods it could be wet, the hairpins had formed rivulets already and in the sunny areas you had very little grip, that is if you didn't slide on the salt spread abundantly the night before by the city's snow clearing teams, and at the next turn you found black ice. With cold tires, we did a pirouette a few turns after the start, which of course happened in an area chuck full of spectators and photographers – us, girls, you know, we like to show off … :)) ) Bogdan Marișca, the en-titre champ, said at the end of the 27 km that it was the toughest stage in his life and that all those who managed to get through the finishing line were winners. What can I say … I was extremely happy I was not among the victims. 
Technical information: we could've started off with winter street tires, exactly like those that, you, dear reader, already changed on your car for the summer ones. But I believe that each kilometre you drive with competition tires helps, because I intend to change, at some point, the material for the competitions (sorry, Sean D'Or). So, imagine that I was feeling as if I went on sneakers to the ice skate rink…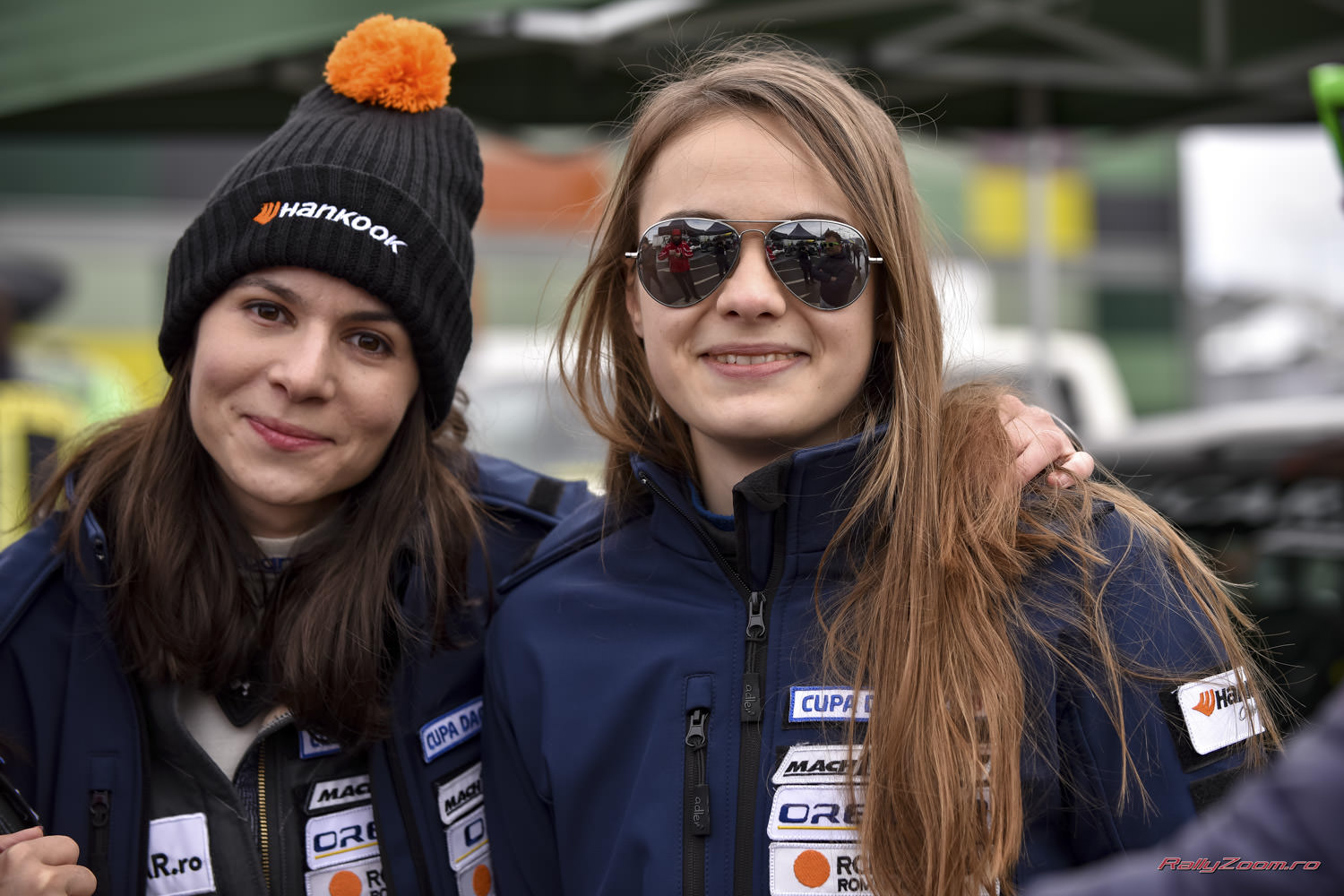 From one of those hairpins in Cheia, on our return trip to Brașov, we have a sample of the onboard humour we use and that is the opposite of the ladiness of our crew. If I were to censor it, it would sound something like: 'Diana, check this out, we came 3rd in the Cup…' 
From what I know, two of the gear boxes just bit the dust – one belonging to Zaharia and the other to Mihnea Mureșan, my colleagues in the DACIA Cup. Meanwhile, Mitre just went off-road and lost about 6 minutes on SS Babarunca, building snowmen. Of course, this is just good luck and a context more than favourable, which I tried to exploit as best I could towards the end. I pushed myself hard and I managed to overcome (as much as possible) the fear I felt for the downhill drives, so on SS Râșnov I had a time with about 26 seconds better than the one last year. On Pârâul Rece, I had the second best time of the Cup, with just a few seconds more than the run of the first day !!). 
After too long a break in the service park, we left for the last stage – the power stage Poiana downhill. Andrei Mitre was recovering incredibly, pursuing in a crazy rhythm and was about 50 seconds behind me … and we were, well, tired, even if we were yet aware of it. 
We went over the finish-line with 4 seconds more than we should've … 4 seconds which we may have left on Cheia, when we had a ridiculously poor rhythm, panicked because of the first run. A few seconds I gladly left to my colleague, Petrișor, letting him overtake me on Babarunca and Cheia, because of an unfortunate start order … or maybe I lost these 4 seconds little by little when I pretty much lift-offed the pedal repeatedly on Pârâu, bringing Diana on the brink of desperation. 
The tenth rally in my career has brought me the best result so far: came in 4th overall in the DACIA Cup. Even though I wanted the podium so badly I could taste it, I know it was a circumstantial result – apparently, to focus on staying on the road and finishing a rally is something I can do quite well. Along with the tests, the physical training program and with Diana with the whip next to me, I will focus on starting to drive faster, budget or no budget and sponsors or no sponsors, although the lack of both budget and sponsors I see as a hindrance that cannot be forgotten …
Now I'm getting ready now for the Transylvania Rally, which I love for the great places and even greater people. It is the event where I discovered what rallying means, from the position of codriver to George Grigorescu, who was behind the wheel of the very first competition Sandero 0.9 TCe ever built. Therefore, I'm expecting you this week in Cluj – on Thursday, at 19.00, we'll see you at the Cluj Arena esplanade for autograph and photo session for the ceremonial start, on Friday morning we have the shakedown in Florești and, from 16.00 we leave for the first stages! (I'll the leave the program below for you)[vc_row][vc_column width="1/2″][vc_single_image image="2977″ img_size="medium" onclick="img_link_large"][/vc_column][vc_column width="1/2″][vc_video link="https://youtu.be/gjYpWfYu9OA"]Thanks for the photos RallyZoom.ro and Attila Szabo