Six years ago I started writing about my family's cars, looking to escape from the architecture I was studying back then at Mincu University. I loved discovering new perspectives I haven't yet found in the Romanian automotive press, so I started my own blog. Without any journalism background, but with a great passion for photography and graphic design, I built a project I thought it was going to be only an addition for what was going to be my profession. 
I played with emotions and cars (I wanted it to be international, because even back then I loved writing in English) and so Emoticar was born. A brand I wanted to be as friendly as possible, which I always found hard to pronounce, yet which I've drawn and built without even the slightest idea that life will keep me in motorsport, right behind the wheel of rally cars. 
As years passed by my story grew and now, with this pandemic that made us analyse our lives, I decided I've outgrown Emoticar. I felt my online presence should reflect my entire story: my career as a rally driver which I have built thanks to my partners, the automotive journalism component which will carry on with interesting #carstories, the entrepreneurial work I do with my online shop or the projects I'm involved in as a speaker, content creator or brand ambassador.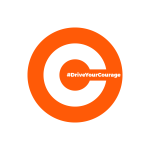 So 2021 brings me a new chapter, in every aspect possible. A new personal brand, a new website, a new rally car, even a classic car, a new codriver, new partners and challenges in motorsport and business. A whirlwind of changes I still struggle to fully accept, a lot more difficult to manage than it seems from the (fewer) photos I posted recently on social media. But I will soon tell you all about these, now that I have my good vibes back and my hater-repellent armour on.
I am very lucky with the team from Graffish, who helped my develop this website in the last few months, calming my OCD by solving all the inevitable bugs which appear when you decide to build a modern website from scratch. I've been postponing this "launch" article since a few weeks now, but I'm so glad their determination beat my perfectionism (this time).
This is a step I took, as usual, planned and future-oriented: I'm thinking about everything I want to share with my story in motorsport and how, in the end, I can change the world into a better place. Each and every encouraging message from you gives me incredible energy. The fact that I inspired somebody, made someone's day better or even encouraged him or her to follow their dream is the most valuable outcome. This gives me the responsibility to carry on stronger, braver and more confident to whatever the future holds. #DriveYourCourage